International Top 100 COUNT-UP Challenge - Week 3 update!
2014.04.24

USA keeps stars at #1 for the 3rd consecutive week with 106227 pts, Belgium is still 5th with 22607 points!
■Overall
USA is still on the top of the world for the 3rd consecutive week with a total of 106227 COUNT-UP scores!
France has also made a strong run this weekend by becoming just the second country to record a total of more than 100207 pts. There are only a 3342 pts difference between USA (106227 pts) and France (100207 pts) at this moment, which anything can happen in the remaining one week.
Belgium is still 5th with a total of 22607 points. Our gap with UK is growing, more than ever, we need more help from players to regain that 4th place!!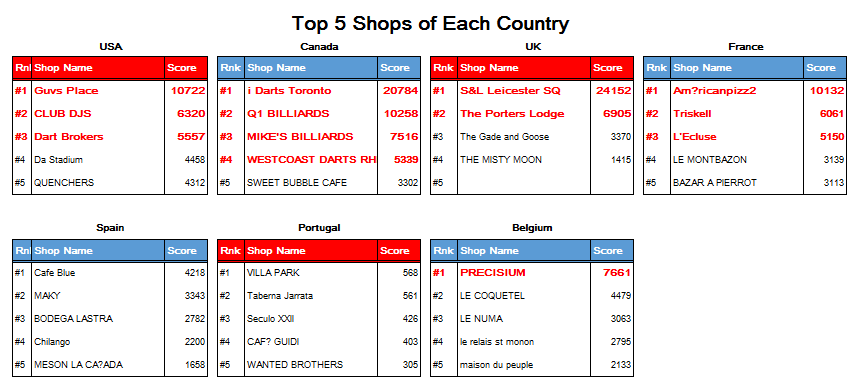 ■Top Shops
i Darts Toronto is now second for the shop ranking behind Slug & Lettuce at Leicester Square from UK with 24 152points. Precisium is the leading shop in Belgium with 7661 points!
■Top COUNT-UP Players
Simonis Kevin(1039 pts), Nico (1030 pts), Gregory Lauriers (1019), LASSENCE Rudi (893), Le Coquetel (826) are the leaders of Belgium. There is only 1 week left, keep aiming for highe to be 4th again!
**Click here to see current Belgium's Top 100 Ranking!

→Like us on our DARTSLIVE Belgium Facebook page!
→For Campaign details, please click here!