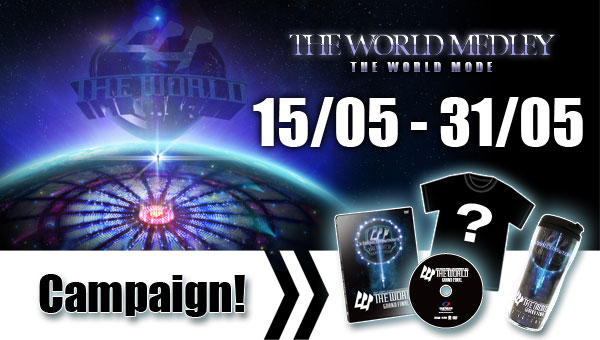 The world's prestigious soft-tip darts tournament, "THE WORLD 2013 Stage 3 " will be held soon in La Rochelle, France.
The promotion is launching before the tournament.
There are going to be prizes for players who played most "THE WORLD" Mode.
Top 10 players who played the most THE WORLD medley in Europe (France, Belgium, Spain, and Portugal) will receive the prizes below.
Prize List
1st - Paul Lim Uniform + THE WORLD 2012 DVD
2nd - 10th - THE WORLD 2012 tumbler + THE WORLD 2012 DVD
The prize will be sent to the player's HOME SHOP!!
If you are not ranked in, but played more than 10 times during campaign period, please visit our booth event in La Rochelle to get special prize.
* please note that we will not send this prize to HOME SHOP
"THE WORLD" Medley Match Campaign period:
May 15th to May 31st (until maintenance time on 1st June)
You can play "THE WORLD" mode from the "MATCH" menu on DARTSLIVE2 selecting your favorite medley.
DOUBLES play will be counted into the number of games played.
Number of games played will be counted only when you use DARTSLIVE CARD to play "THE WORLD" mode.
If you play the "MATCH" menu's games in several countries using the same DARTSLIVE CARD, the numbers of play would be counted.
Please note that you have to use your DARTSLIVE CARD to register your HOME SHOP.
You are also required to register a valid "HOME SHOP"on MEMBERS CARD PAGE where you can actually go and collect the prize on your own.
* How to access "THE WORLD" mode
Simple Menu → Recommend → "THE WORLD" mode