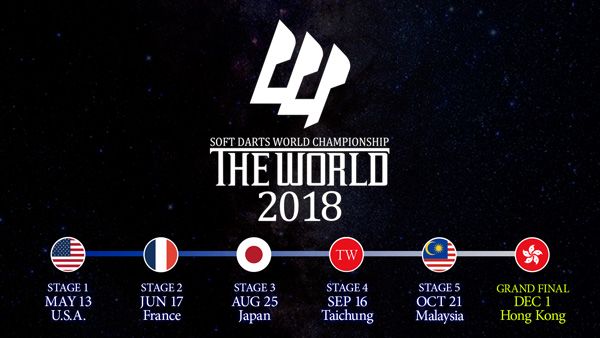 Le planning des dates de la saison 2018 du tournoi qui définit le meilleur joueur de soft darts au monde, THE WORLD, a été annoncé.
L'année dernière, plus de 1000 joueurs venant de plus de 20 pays différents se sont affrontés avec pour objectif le titre de meilleur au monde.
La saison 2018 se composera de 6 étapes, et ces batailles passionnantes se dérouleront partout dans le monde.
<THE WORLD 2018 calendrier>
STAGE 1 USA
Date: Dimanche 13 mai 2018
STAGE 2 FRANCE
Date: Dimanche 17 juin 2018
STAGE 3 JAPAN
Date: Samedi 25 août 2018
STAGE 4 TAICHUNG
Date: Dimanche 16 septembre 2018
STAGE 5 MALAYSIA
Date: Dimanche 21 octobre 2018
GRAND FINAL (Hong Kong)
Date: Samedi 1 décembre 2018
Consultez les dates et lieux sur le site officiel de THE WORLD.
Quelle histoire vera le jour pour l'année 2018?
Cette année encore, ne quittez pas THE WORLD des yeux!
Cliquez ici pour le site officiel THE WORLD