Entry method for DARTSLIVE OPEN 2016 USA !
2016.03.17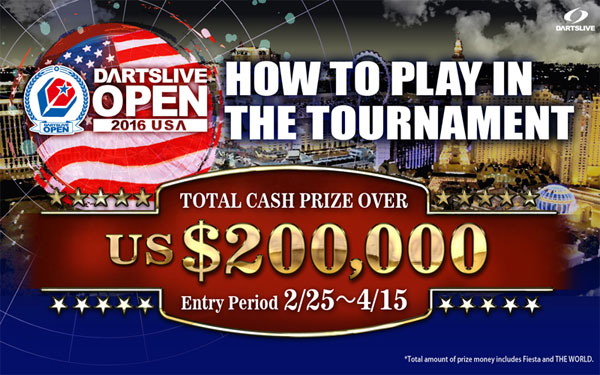 Cash prize of USD 200'000!
"DARTSLIVE OPEN USA" is coming in May!
Join us in one of the largest tournaments of Dartslive!
3 simple steps to sign up♪
STEP 1: Online Registration (or On-site Registration)
Purchase "Tournament PASS" on the event website
↓
STEP 2: Tournament / Division Selection
Indicate your tournament and division on "Selection sheet" and submit it.
↓
STEP 3: Check-in
Check in before your tournament starts
*Tournament PASS is available for purchase at the venue on the event day as well. (=On-site Registration)
Just complete STEP 1 now as STEP 2 and 3 are at the venue.
>>Visit here for more information such as tournament outline and entry detail!
>>Click here for the website of the concurrent tournament event' "THE WORLD"