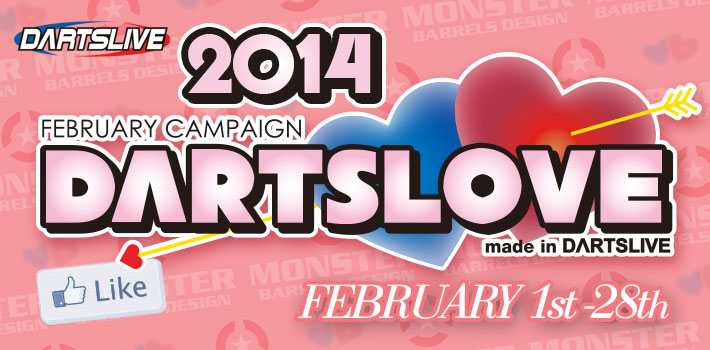 DARTSLOVE Facebook Campaign
Without love, there is no DARTSLIVE! Which is why we are bringing DARTSLOVE back to you. If you didn't get to participate last year, here is your chance to show the world just how much 'DARTSLOVE" you have!
During the month of February, show your Valentine's Day spirit with your significant other while playing some DARTSLIVE games. Play a game of COUNT-UP and take a CREATIVE picture in front of the board (Creative pose, photoshop, etc.).
All pictures should be sent to dlu_promotion@dartslive.com.
The pictures will be checked and screened to make sure they are appropriate then they will then be uploaded to DARTSLIVE NORTH AMERICA's Facebok Page. Once the pictures are on there, the public will vote on their favorite pictures. The top 6 highest 'Liked' pictures will receive a prize and the overall most 'Liked' picture will receive the GRAND PRIZE.
If you are a DARTSLIVE CARD member, you can get a special Campaign THEME if you submit your card ID when sending your photo.
GRAND PRIZE and other prizes will be provided by MONSTER Barrel Design and DARTSLIVE USA
Participants must send in their pictures with the two card IDs of the people in the pictures to be eligible.
◆Campaign Period and Rules◆
■Campaign Schedule
・Accepting Pictures Period:
February 1st, 2014 - February 16th, 2014
・Voting Period:
February 17th 2014 - February 28th 2014
・Campaign winner announcement:
March 4th, 2014

■How to join Campaign
・Must be a DARTSLIVE Premium Paid Member to be eligible to win prizes.
・"Like" us on our DARTSLIVE NORTH AMERICA Facebook page
・Submit your best photo and DARTSLIVE CARD ID to dlu_promotion@dartslive.com
■Prizes
GRAND PRIZE - 2 sets of special MONSTER dart barrels, DARTSLOVE T-shirts, DARTSLIVE Prize Package and MONSTER Barrels Gift bag!
2nd Place- DARTSLOVE T-shirts, DARTSLIVE Prize Package, and MONSTER Barrels Gift Bag
3rd Place - DARTSLOVE T-shirts, DARTSLIVE Prize Package, and MONSTER Barrels Gift Bag
*Special Campaign THEME to all the players who've submitted their DARTSLIVE CARD ID with their photo
Once you see your picture on our Facebook Page, tell all of your friends and family to go to www.facebook.com/DARTSLIVENORTHAMERICA SHARE the link and "Like" the page, then go to your picture and vote on it by Liking it. Most votes WIN!
*Voting period starts from Feb 17th to 28th
>>Find us on Facebook and LIKE our page
>>Click here to see the winners of DARTSLOVE 2013