DARTSLIVE FIGHT CLUB #2 RESULTS ARE IN!
2014.03.18
DARTSLIVE FIGHT CLUB #2 WAS INTENSE!
A NEW DFC RECORD HAS BEEN MADE AND A NEW GRANDMASTER HAS EMERGED!!

Darts Fighters from all across North America entered the DFC arena on March 14th to become the next DFC GRANDMASTER. Towards the end of DFC#2, Jason Seger of Ohio made a strong push and broke the accumulated point record from DFC#1!

Below are the Top 10 Fighters from DFC#2!

1. 2400 Points: Jason Seger - Grand Champion Lounge, Ohio (GRANDMASTER DOG TAG Recipient)
2. 2170 Points: Tim Saur - Starlite Lounge, Washington (MASTER DOG TAG Recipient)
3. 1990 Points: Ed Chambers - West End Pub, Colorado (SPECIALIST DOG TAG Recipient)
4. 1960 Points: Brandon Kessler - Grand Champion Lounge, Ohio
5. 1870 Points: Trip 6 - Trips Darts, Kentucky
6. 1780 Points: THE PEEnu Kid - Trips Darts, Kentucky
7. 1720 Points: MIKE C - Trips Darts, Kentucky
8. 1640 Points: Gmoney - Trips Darts, Kentucky
9. 1580 Points: Chris Crain - Shooters Bar & Grill, Wisconsin
10. 1510 Points: Keith Kozai - Armbar Sports Hawaii, Hawaii

The Pacific Division with 75140 Points is starting to close the gap with the Central Division with 89910 Points since DFC#1! Below are the current AREA RANKING!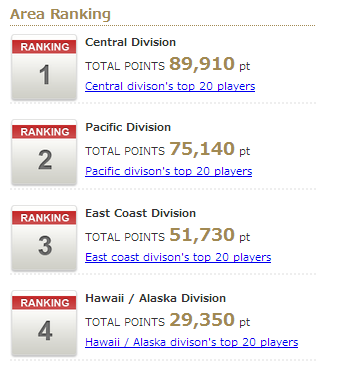 *Click the image to see who is leading each Division!
Don't throw in the towel just yet! There are 2 more rounds of DFC to go! So there is still a chance for any division to take the TOP, and for new GRANDMASTERS to be named! And remember! There will be more prizes for the Top 5 ranker of each division's, and a Special Prize for the top fighter from the Total Accumulated Points!!
Remember to check out the specified dates and times in each time zones below for the next round of DARTSLIVE FIGHT CLUB!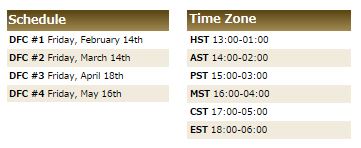 The Top 10 Fighters from each round of DFC will receive a DARTSLIVE Prize Package!
To learn everything you need to know about DFC visit https://www.dartslive.com/us/fightclub!
To see the Top 100 Personal Ranking from DFC#2 Click Here
To see the Area Ranking from DFC#2 Click Here
To see which Division you are in Click Here

Like Us On Facebook!