"Hello!" will be available on Feb.4 (Tue)! ~Where is your "FRIEND" now?~
2014.01.24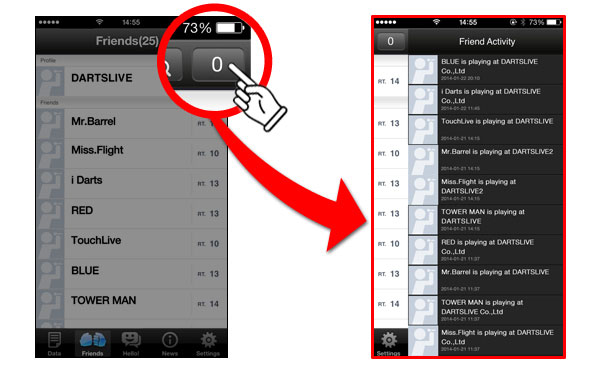 New content' "Hello!" will be available on Feb.4 (Tue) after the update of the DARTSLIVE app!
Hello! is a communication app that turns people into FRIENDs after playing DARTSLIVE together' and allows FRIENDs to enjoy exchanges of short messages and stickers.
"FRIEND ACTIVITY" is a feature that shows you the shop where your "FRIENDs" is playing♪
Of course' you can be "FRIENDs" with people you played with online matches such as GLOBAL MATCH!
Communication with overseas "FRIENDs" who speak different languages gets easier using stickers!
~"Hello!" features~
>>Stickers
>>FRIEND
Don't miss "Hello!" (DARTSLIVE app update) on Feb.4 (Tue)