JAPAN STAGE5 Tournament Result
2013.07.06
On July, 6th , SOFT DARTS PROFESSIONAL TOUR JAPAN STAGE5 was held in AICHI, Japan. Now our new JAPAN16 is born.
KENICHI AJIKI has won his first title in JAPAN, TSUYOSHI FUKATA ended at the 2nd place.
In JAPAN LADIES8, SAYURI NISHIGUCHI has topped the competition.
In JAPAN × THE WORLD EXHIBITION, HIDEKAZU SATO / DAISUKE AKAMATSU / AYAKA SUNAGAWA team has won the title, and won their right to challenge [THE WORLD 2013].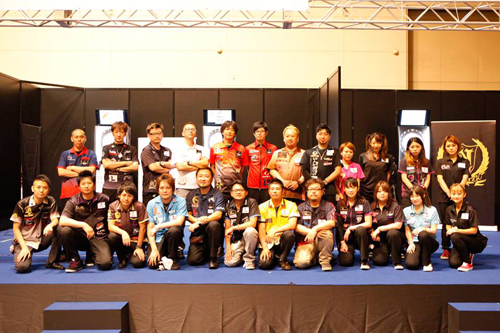 ■JAPAN
Champion
KENICHI AJIKI
Second place
TSUYOSHI FUKATA
Third place
SEIYA ASAKURA
TOMOYA TSUMURA
TOP8
FUJIO HONJO
SHO KATSUMI
SUSUMU NAGAKURA
KYOHEI OZEKI
TOP16
MITSUMASA HOSHINO
HIROAKI SHIMIZU
SHINGO ENOMATA
ATSUSHI MATSUMOTO
DAISUKE AKAMATSU
HIDEKAZU SATO
TSUNEKI ZAHA
SUSUMU KASUYA
■JAPAN LADIES
Champion
SAYURI NISHIGUCHI
Second place
RIE HOSHINO
Third place
KAZUMI SAITO
AKIKO TSUJIMOTO
TOP8
TOMOKO KAYUKAWA
AYAKA SUNAGAWA
YUKO HINO
NAMIKO MUTO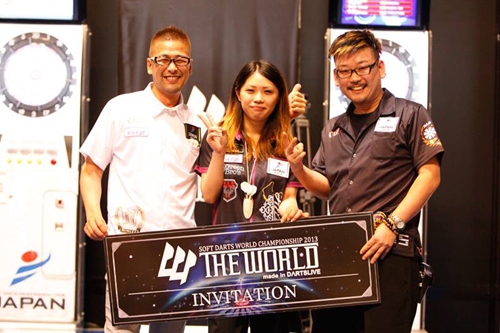 ■JAPAN × THE WORLD EXHIBITION
Champion
HIDEKAZU SATO / DAISUKE AKAMATSU / AYAKA SUNAGAWA