CC1K & VENUS700 Malaysia STAGE 1 Information
2018.02.09

Congratulations to the CC1K Qualifiers who have achieved minimum 1000 points and VENUS700 Qualifiers who have achieved minimum 700 points in COUNT-UP for the month of January.
VENUS700 Malaysia STAGE 1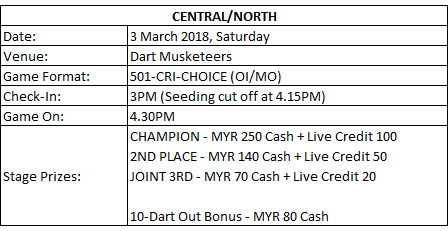 *All players must play COUNT-UP for seeding before cut-off time. Players who failed to do so will not be able to play in the main tournament.
**Important
>> Confirm your attendance online to receive the exclusive CC1K & VENUS700 STAGE Patch for your jersey!
>> Patch are for players who manage to hit up to 1000 points and above for CC1K and 700 points for VENUS700 only.
>> Walk-ins will not be entitled for the Stage patches.
Qualifier list & Online form for STAGE 1 Attendance is now available at:
https://www.cc1k.com/malaysiaschedule
See you in STAGE 1!