START FROM TODAY!! Try your best to get valuable gift!!
2018.06.28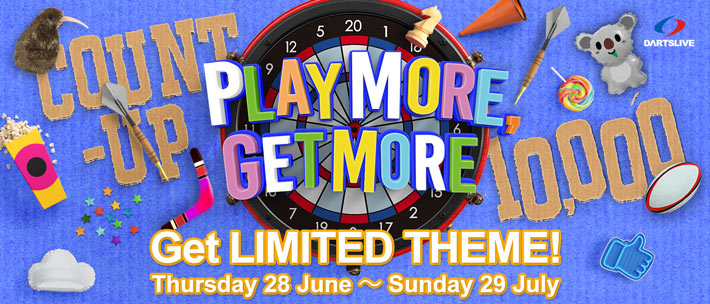 A wonderful campaign will start from Today to Jul 29, 2018
as much COUNT-UP as you play, you are not only getting Special THEME* and Special Movie THEME of the campaign, but also have a higher chance to win the limited edition DARTSLIVE Items. DON'T MISS OUT!!
Check the campaign details below:
■Campaign name
PLAY MORE GET MORE
■Campaign period
Thurs 28 Jun to Sun Jul 29, 2018
■Rule
During the campaign period, you receive accumulated score when you play COUNT UP games on DARTSLIVE2 in all venues.
By accumulating score in 4000 you will receive a very cute THEME↓↓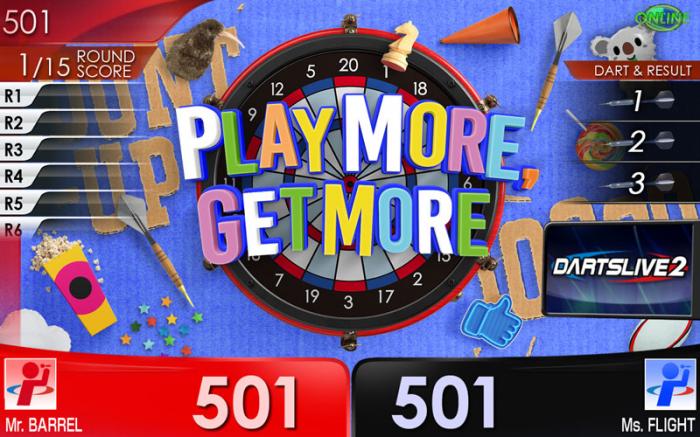 and 10,000, you will receive a limited edition DARTSLIVE THEME respectively↓↓
Also, if a player is among to top 4 accumulate scores, he/she will be rewarded a limited DARTSLIVE item (Machine Cushion, Limited edition DARTSLIVE card, Machine luggage tag, and etc.)
Check your current accumulates scores on Card Page!!
※IMAGE
DON'T MISS OUT A CHANCE TO WIN LIMITED DARTSLIVE ITEMS!!
■Note
・The campaign organizer reserves the right to remove or refuse any players who are found to be impediments to the campaign or campaign progress from participating in the campaign.
・DARTSLIVE Card is required to enter this campaign. If you do not use any DARTSLIVE Card for COUNT UP on DARTSLIVE2, you will not get any score of COUNT UP for this campaign.
・In partner game, the player will only get the score that the player hit
・If a match is not completed, the campaign score will NOT be counted / accumulated.