MSDO 2015 Entry Start (Concurrent Event: THE WORLD STAGE 5)
2015.07.28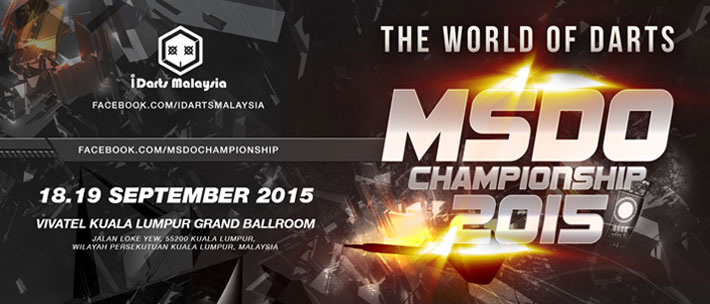 MSDO 2015 (Malaysia Soft Darts Open Championship 2015) concurrent with THE WORLD STAGE 5 (Malaysia) Overseas Registration is now OPEN!
Tournament Name:
MSDO Championship 2015
Dates:
18th & 19th September 2015
Venue:
Vivatel Kuala Lumpur Grand Ballroom
(Jalan Loke Yew' 55200 Kuala Lumpur' Wilayah Persekutuan Kuala Lumpur)
Download:
Registration Kit
Player who has already entered THE WORLD STAGE 5:
inquiry@darts-theworld.com
Player with MSDO Entry Only:
*Please Contact your local Official Appointed International Representative
Australia (i Darts Australia)
Xiang Ning + 03 9645 4667
xiangning@idarts.com.au
Entry Method:
・Registration is valid only with full payment. Registration is neither transferable nor refundable.
・Registration form to be submitted to
info@idarts.com.my
. Any submission after 31st August 2015' will not be valid and entertained.
*Malaysian Local Time
・Entries submitted with other parties will be rejected.
Please go to your local DARTSLIVE.com websites' THE WORLD 2015 official website' or email
info@idarts.com.my