【Sat Aug 27】LIVE QUEEN in GLOBAL MATCH!
2016.08.26
One-day only GLOBAL MATCH event will be on Sat Aug 27.
LIVE QUEEN will appear in this event. It is a rare opportunity to play with the popular girls in Japan.

Limited DARTSLIVE THEME will be yours if you earn the required points from matches on the day.
Play more matches and earn the points♪
★
LIVE QUEEN
They are darts-loving girls selected in the contest by DARTSLIVE.
To promote darts and show how fun it is' LIVE QUEEN engages in various activities in various media such as events' magazines' TV and online programs that are operated by DARTSLIVE.
Outline
▼Schedule
6pm to 9pm Sat Aug 27 2016

▼Game of the event
701 (in "LIVE QUEEN GLOBAL MATCH EVENT")

▼Participating LIVE QUEENS
Natsumi Fujimoto / Mao Karube / Saya Akane / Haruka Tsuji / Mai Matsunari / Shiori Yasui / Yurie Miyazato / Ayumi Teramoto / Aya Sagawa

▼To receive the THEME
You can receive the limited THEME if you earn 10 points.
The points will be awarded based on the result of 701 match in LIVE QUEEN GLOBAL MATCH EVENT(Win: 3pts / Loss: 1pt / Tie: 2pts)
How to participate
STEP1:
Select P4: "LIVE QUEEN GLOBAL MATCH EVENT" on the Menu Screen during the event hour.
*Outside the event hour' only regular "GLOBAL MATCH" is available.



STEP2:
Select "Participate"
*If you select "GLOBAL MATCH"' you will go to a regular "GLOBAL MATCH" screen.



STEP3:
Your opponent is selected automatically.



STEP4:
The rest will be the GLOBAL MATCH as you know. Exciting 701 competition!
*Auto handicap is applied based on rating difference between players.
After the match・・・
Points will be added based on the match result.
*For doubles matches' each player will receive the points.
When your cumulative points reach 10' the limited DARTSLIVE THEME will be yours♪
The THEME is only available in this event!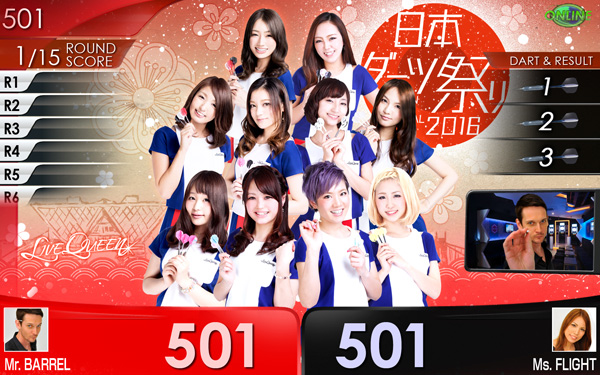 Note
*This event requires DARTSLIVE CARD.
*This event is subject to change without prior notice.