May's "Yum Yum! de Mayo" Campaign!!
2014.05.07

Celebrating "Cinco de Mayo", this May's Monthly Campaign will be featuring our party game "Yum Yum!"!
The rule is simple, play "Yum Yum!" and make your friends enjoy their favorite beverage as many as possible!
The players who pass on the most beverage to their friends will be crowned as "Maestro de Yum Yum"!!
◆Campaign Information
■Campaign Period:
May 5th ~ 31st
■Campaign Game:
Yum Yum!
■How to join Campaign
-Players must be a registered DARTSLIVE CARD Member
*Unregistered DARTSLIVE CARD, which will be displayed as "no name ~~~~", will not be treated as invalid player.
-HOME SHOP must be registered for your DARTSLIVE CARD.
-Just Play Yum Yum!
■Campaign Prize
-Players who have ranked in the Top 20 of the Yum Yum! Ranking will be rewarded with a special Campaign THEME:
-Players who have ranked in the Top 10 of the Yum Yum! Ranking will be rewarded with a Yum Yum! souvenir.
-The top 3 shops with the most accumulated points in the Top 50 Yum Yum! Ranking will be awarded Yum Yum! 20 oz glass mugs.
*Scores will be counted when all 8 rounds of "Yum Yum!" is finished.
*One full glass will be counted as one point. If the glass is not full, score will not be counted.
*Any fraud and/or foul played results in disqualification of the player and all winning points forfeited.
*In the case of a tie, the winner will be chosen on a first rank basis as reflected on the website.

■What is Yum Yum!???
Yum Yum! is a Party Game which features 37 mini games which will be randomly selected for each 8 round. Not only do skills matters in this game, but also luck and guts are the keys to winning!
Here are some of the mini games you can play in "Yum Yum!"! Play "Yum Yum!" and find out the other 34 mini games!!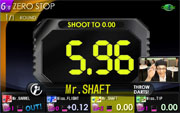 ZERO STOP
The timer starts at 10 seconds and starts counting down. When you throw one dart at the board, the timer will stop. Easy right? Not exactly! The timer will go blank at around 4 seconds so you will have to guess how close the timer is to ZERO! The person furthest away from 0 seconds will have to take the consequences!
ONE DART COUNT UP

In this game, each player will only have ONE dart! That's Right! Only one dart will be thrown for the highest score! Will you go for the Bullseye or the triple for a good score? The choice is yours!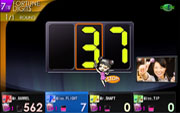 FORTUNE DIGITS

Here you will throw all 3 darts. The first dart will stop the first number in the 'ones' place. The second dart will stop the 'tens' place from spinning, and the third dart stops hundreds spot from spinning. Can you get the perfect score of 999?! Try it and find out!