Half a month left!! Limited DARTSLIVE Items can be yours!
2018.07.17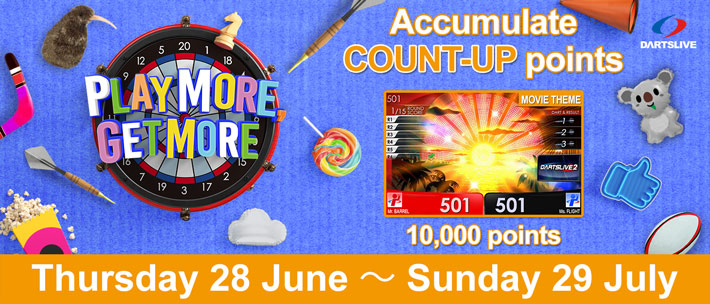 From 28 Jun to Jul 29, as many COUNT-UP as you play, you are not only getting a special THEME* and Movie THEME of the campaign, but also have a higher chance to win
the limited edition DARTSLIVE Items
.
Don't MISS OUT!!
HOW TO:
1. Use new / existing DARTSLIVE CARD (compulsory) to play COUNT-UP.
2. Accumulate 4000 score by playing COUNT-UP to win special THEME.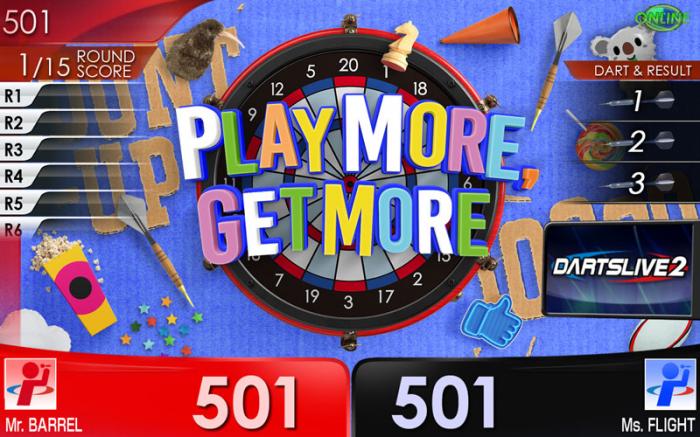 3. Accumulate 10000 score by playing COUNT-UP to win special Movie THEME.
4. After collecting the THEMES, accumulate as many score as you can to win the limited edition DARTSLIVE Item. Limit to 4 winners.
Below are the top 10 players with accumulate score (updated as 12 July):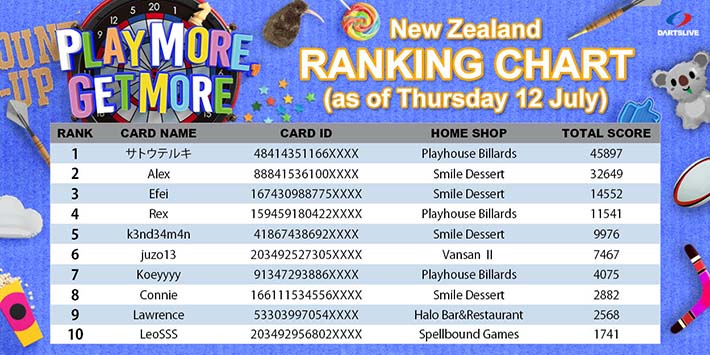 *Player can check their COUNT-UP score through DARTSLIVE official website and app:
Login to DARTSLIVE official website or app, you can check the accumulated score and how many score is needed for getting the THEME at HOME SHOP page
*IMAGE
*What is DARTSLIVE THEME? A background image shown on the screen when you are playing any games on DARTSLIVE2 machines. (After you get and set it) Let you to be eye-catching in the DARTSLIVE venue!
■Note
・The campaign organizer reserves the right to remove or refuse any players who are found to be impediments to the campaign or campaign progress from participating in the campaign.
・DARTSLIVE Card is required to enter this campaign. If you do not use any DARTSLIVE Card for COUNT UP on DARTSLIVE2, you will not get any score of COUNT UP for this campaign.
・In partner game, the player will only get the score that the player hit
・If a match is not completed, the campaign score will NOT be counted / accumulated.
For the details of DARTSLIVE shop,
please click here