SUPER LEAGUE SEASON 2 Fiesta - Encore COUNT-UP Campaign Final Results
2014.09.04

We want to give a huge congratulations to our Fiesta - Encore COUNT-UP winners!!

The Top 3 winners are given the option of choosing between Free entry into their choice of America's Tour, Stage 6 in Toronto, Ontario OR DARTSLIVE USA Open.
◆RANKING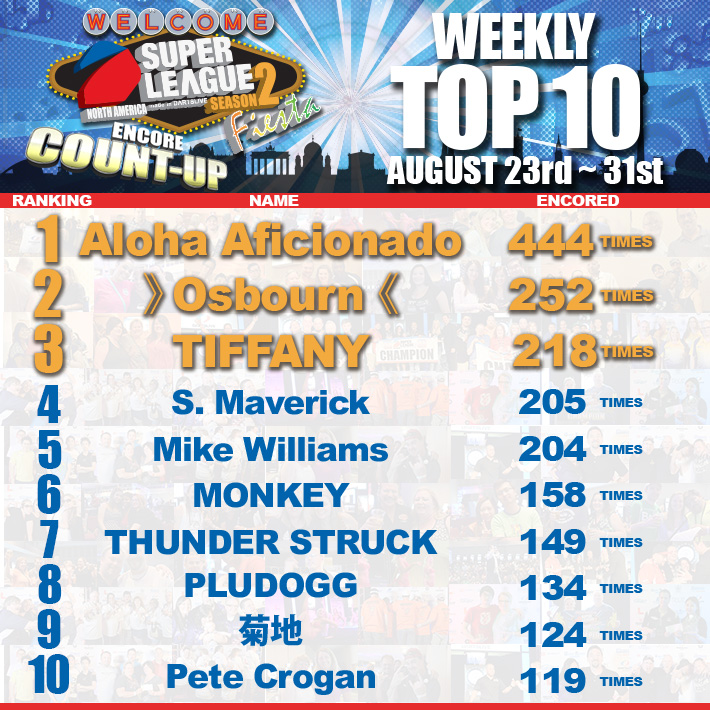 The Top 10 winners will receive a DARTSLIVE GIFT BAG with SUPER LEAGUE SEASON 2 FIESTA swags:
CONTENTS OF THE GIFT BAG
・DARTSLIVE Drawstring Bag ・DARTSLIVE Ring Necklace ・DARTSLIVE Money Clip ・DARTSLIVE Wristband ・SUPER LEAGUE Flights ・SUPER LEAGUE Fiesta Patch ・SUPER LEAGUE Button Badge
Thank you to everyone that participated in the Fiesta Count-Up Challenge for the month of August and see you next Fiesta!!
◆CAMPAIGN DETAILS
CLICK HERE to see all the details for August's Encore COUNT-UP Campaign!
Follow us @