Updates for 2015 Annual Point Ranking!

Dec. 17, 2015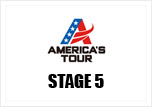 The annual point ranking of AT 2015 has been updated.
Go to the Annual Point Ranking page
A tournament that Top 16 of the AMERICA'S TOUR 2015 ranking competed to decide the strongest of the year was held during the STAGE 5.
Congrats to David Fatum who won the first Top 16 championship held during STAGE 5! He was officially named as the winner of AMERICA'S TOUR 2015!! The runner-up was Scott Kirchner, Larry Butler and Chris Lim followed as the 3rd.
Thank you again to all the participants in this year's AMERICA'S TOUR!
Stay tuned for our next announcement on dartslive.com